Enter search queries below or use the tag links to the right to browse the knowledge base by category (Show All Tags).
---
Installer will not run
Under certain circumstances, Windows will block an installer from running for security reasons. The most common case is when you download the installer on one network (for example, your laptop connected to a cellular network) and then copy the installer to another network (for example, a server machine on your work network) and try to run it.
On some versions of Windows, it will display a dialog box warning you that you need to unblock the installer to run it. However, on other versions of Windows, no warning is displayed; the installer will simply exit silently.
If you experience any of these symptoms, you will need to unblock the installer before you will be able to run it.
Right-click on the installer file and choose Properties. In the General tab, you should see the warning, "This file came from another computer and might be blocked to help protect this computer."
Click the Unblock button. You should now be able to run the installer.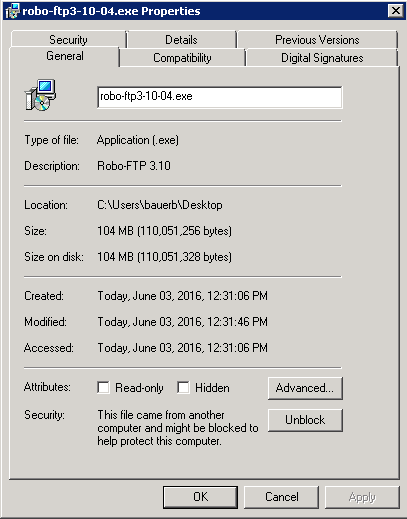 Article last updated: 2021-11-02
Tags: Robo-FTP, Robo-FTP Server, Installation